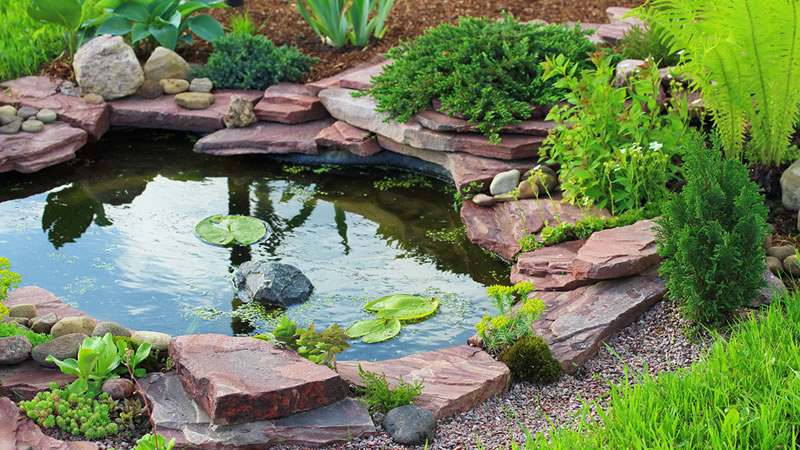 Water Feature Installations Geauga County OH
We building small ponds, creek beds, and water features
Are you looking to enhance the natural look and feel of your property?  Do you want to raise the elements of relaxation and peace when you enjoy your property?  Water features including small ponds and small water fountains are becoming very popular landscape projects.  A nicely built water feature can add tranquility to your property and the trickling or bubbling sound of cascading water can be a very soothing and relaxing environment for you, your family, and your guests.
Big Dog Landscaping is a landscaping contractor serving Geauga County, Summit County, and Cuyahoga County in Ohio. We specialize in building small water features including tranquility ponds, fountains, dry creek beds, natural streams, small waterfalls, and more.  If you want a water feature on your property we'd be happy to discuss your plans and offer suggestions and solutions that will work for you.
Water Feature Construction Services
Small backyard ponds
Dry creek beds
Natural looking streams
Small waterfalls or fountains
Tranquility pools and ponds
There is a lot of thought and planning that goes into installing a water feature on your property including creating a design that you love, preparing the area, the plumbing, and electrical work, the proper placement of rocks and boulders, what type of plants to incorporate or any other items of interest.  We want to make sure your new water feature becomes a welcomed and favorite addition to your landscape with minimal maintenance and upkeep.
Why Choose Big Dog Landscaping To Build Your Water Feature?
We understand that you have many landscaping contractors to choose from throughout our service area in Ohio.  We just want you to know that when you choose to work with Big Dog Landscaping to install a water feature you are partnering with a small, locally owned business that has the knowledge and experience to build a beautiful water feature you'll be thrilled to have on your property.
You can expect knowledgeable, reliable services from a company that cares about your properties appearance and our local reputation in the community.
If you'd like to get the process started then please give us a call (440) 596-3822 or fill out our online contact form and we'll get back to you right away (usually the same day).